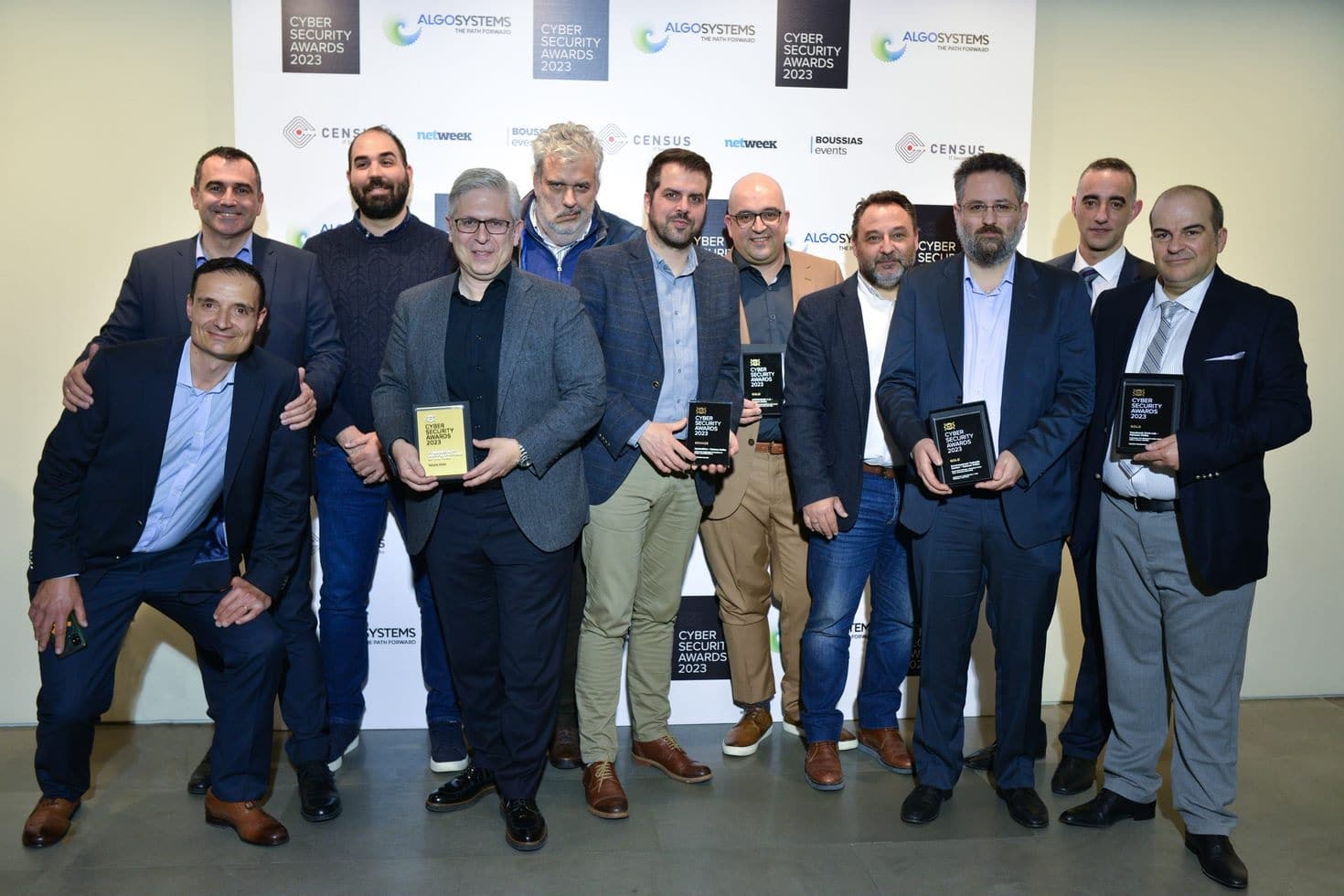 Athens, 21 March 2023 – Pylones Hellas, a digital technologies and internet security provider, and its customers received three gold awards and one bronze in the annual Cyber Security Awards organized by Boussias Communications for projects it implemented on their behalf.
The three gold awards categories were: "Fraud Prevention" in collaboration with the Cooperative Bank of Chania, "Logistics" with ARCHIOTHIKI S.A. and "Identity Management" with Fenchurch Faris Ltd. The bronze award was received for the company's collaboration with ARCHIOTHIKI S.A. in the "Application Security" category.
Pylones Hellas and its customers were awarded:
Smart Bot Defense, Adapting Faster Than Criminals Retooling for the Cooperative Bank of Chania
For the past year, Pylones Hellas has been collaborating with the Cooperative Bank of Chania to provide electronic security services. This includes securing the bank's APIs and ensuring the safe communication of users with the bank's e-banking platform. The fruitful partnership with one of Greece's continuously advancing banks is still ongoing.
A journey of a thousand miles begins with a secure Identity for Fenchurch Faris
Pylones Hellas and Fenchurch Faris joined forces to provide digital cybersecurity services, which earned them the 2nd gold award. This successful collaboration is a testament to the excellent management of client needs and the trust they have in Pylones Hellas.
Infrastructure for Zero-day vulnerabilities for ARCHIOTHIKI S.A.
Pylones Hellas collaborated with ARCHIOTHIKI S.A., a provider of comprehensive service management solutions, to offer electronic security services and digital security applications. The collaboration included secure access, apps, APIs, data, and advanced application protection to address zero-day vulnerabilities. This successful partnership earned two awards, one gold and one bronze, highlighting the seamless collaboration between the two companies.
Mr. Emmanuel Netos, CEO of Pylones Hellas, stated about the award: «We would like to extend our congratulations to the companies that received the awards and express our gratitude for their trust in us to implement these projects. These awards highlight the fact that successful collaboration can achieve desired results, even in the most challenging and unique cases. We remain committed to developing and delivering innovative solutions that align with market trends.»
Mr. Giorgos Linardakis, Sales Director of Pylones Hellas, in his turn, emphasized:  «Pylones believes that its people are the core of the company. Therefore, it is crucial to acknowledge and thank the team for their contributions to the projects that led to the award-winning achievements of their clients. Efficiency, innovation, and adequate preparation are the cornerstones that ensure the successful completion of each project. Pylones values its customers' trust in assigning the security of their systems to the company, recognizing its expertise and commitment to excellence.»
About Pylones Hellas
Pylones Hellas, member of the Cypriot group P.M. Tseriotis Ltd, is active for more than 25 years in the field of digital technologies and internet security. The company combines the services of both IT systems integrator and IT security integrator, consisting of a pioneer IT provider for the Greek market. Based on three significant pillars Security, Optimization and High Availability, Pylones Hellas provides cutting-edge technology solutions, on any scale, in multiple demanding sectors such as Telecommunications, Hotels, Financial institutions and companies that base their business on the Internet, while continuing to update its customers' Information Technology Infrastructure, to provide, in turn, a high level of digital services to their customers.
Pylones Hellas are cooperating as partners with F5, AWS, Okta, Checkpoint, HPE, IBM and Microsoft offering numerous solutions in areas such as security, wired and wireless networks, storage, business-critical systems, data centers and cloud.
For more information please visit: www.pylones.gr | LinkedIn | Facebook Page | YouTube