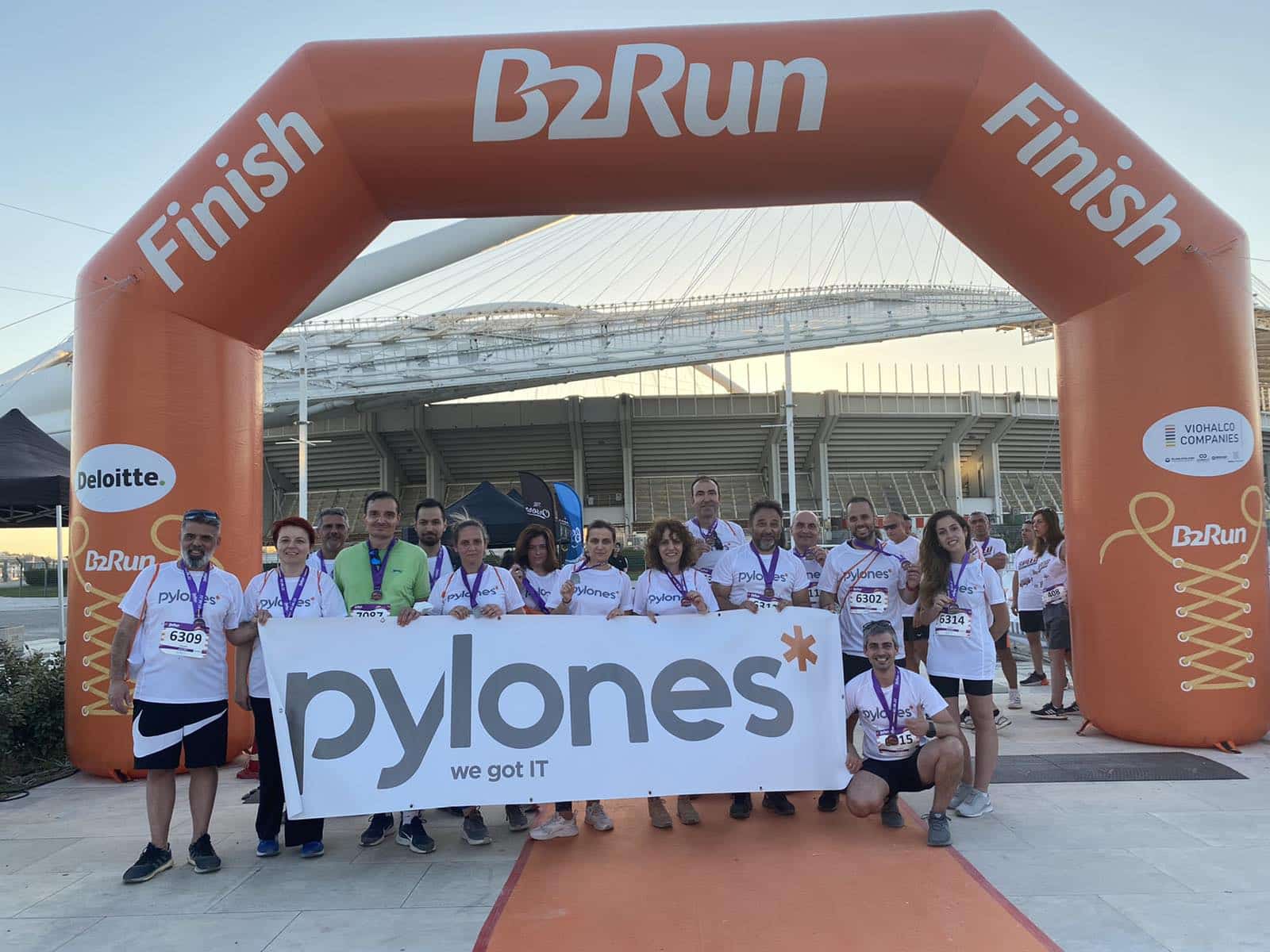 Pylones Running Team
B2Run Greece – 𝘄𝗲 𝗺𝗮𝘆 𝗻𝗼𝘁 𝗯𝗲 𝗮𝗹𝗹 𝗿𝘂𝗻𝗻𝗲𝗿𝘀, 𝗯𝘂𝘁 𝘄𝗲 𝗮𝗿𝗲 𝗱𝗲𝗳𝗶𝗻𝗶𝘁𝗲𝗹𝘆 𝗮 𝘁𝗲𝗮𝗺 💪🏻!
#Pylonees decided to show that #tech people can run 🏃‍♀️🏃‍♂️
No matter how fast, no matter what department or position, no one ran or walked alone! Yesterday we had the exciting opportunity to be part of Greece's largest corporate running🏃‍♀️🏃‍♂️ party, B2Run Greece 🏁 at OAKA stadium🏟️!
Almost 20 #Pylonees runners had a 5km course for a good cause, supporting the organization Women on Top! They often say that running is an individual sport…but being a #Pylonee is a team sport!
It was really refreshing taking a break from our screens👨‍💻, exercising, and having fun all together!
Our top 3 #Pylonees runners🎽?
🥇Spiros Kyriacopoulos
🥈Athina Trochopoulou
🥉Alexandros Antoniou
About B2Run Running Event
B2Run is now Europe's largest corporate running series, with up to 40 separate events planned for 2022. Each event is a run of around five to six kilometres, and finishes in a unique venue – often a huge stadium. The result is a welcoming and fun corporate activity, with colleagues building both team spirit and fitness.
B2Run is suited to experienced athletes, amateur runners and beginners alike, and makes running a truly collective activity. Colleagues become teammates and training partners, motivating and inspiring one another and building a sense of community that endures even once the race is over.
For employers, meanwhile, the series can be an important means of caring for employees and building wellbeing. B2Run supports people to be active together. Start-ups, large corporations and every size of company in between has found that taking part in a run creates lasting team bonds.
The welcoming nature of B2Run extends to its recognition of the wealth of runners' achievements. Prizes are awarded for everything from fastest company to fastest boss to most creative team during a fun after-run party.