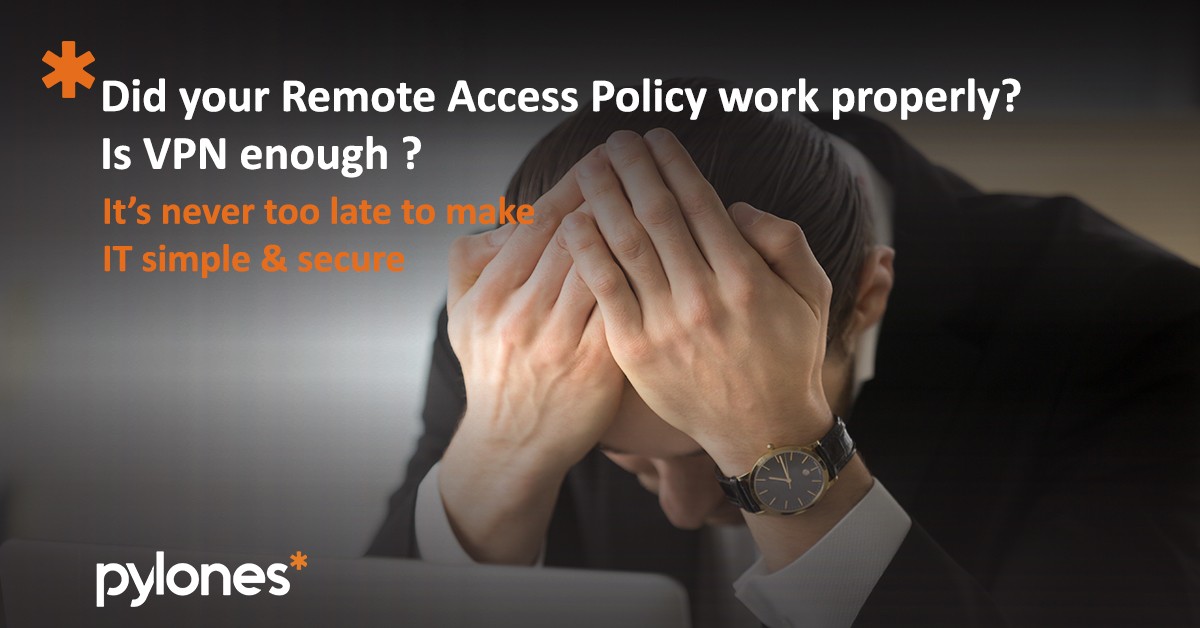 How covid-19 change everything
The past couple of months have been turbulent and unprecedented. Global economies are tentatively considering how to re-emerge without sacrificing human safety for business prosperity. The immediate and disruptive impacts of COVID-19 will likely be a catalyst for transformation for years to come.
According to 451 Research, before the COVID19 crisis, 13% of the employees worked fully remote. Now, 65% of businesses have implemented expanded work from home (WFH) policies with more on the way. Additionally, 38% of businesses think those policies will be long-term or permanent.
COVID-19 has also led to organizations worldwide, to ask their employees to work remotely (where able) in an effort to stop the spread of the virus, and to insure the health and well-being of their employees. The actions of these organizations are sensible yet they have led to major disruptions in manufacturing, supply chains and productivity.
This overnight digital transformation highlights some positives and areas for improvement . On the positive front we've proven that massive WFH models can work. However, you can't just flip a switch and make it so. This new model requires a network architecture designed to rapidly scale remote access, which is something many organizations weren't prepared to implement or implemented it hastily and in a not secure away.
Remote working is not a challenge but a must step to keep things going
Many organizations have dusted off their old business continuity plans (BCP), only to find out that they haven't been kept up to date with available technologies. Organizations need to know how to judge and manage the impact that COVID-19 will have on their organizations and day-to-day business.
Unfortunately, attackers are now leveraging the fear and uncertainty caused by the spread of the coronavirus to try to extract money and critical information from organizations and individuals. The World Health Organization (WHO) has provided warnings about attackers posing as WHO representatives phishing for donations or corporate information and user credentials; or including malware-riddled attachments and links urgently imploring the user open the file or click the link.
With the lives of so many workers being turned upside down due to school closings, work from home mandates, and other COVID-19 related protections being put in place, how do we stay productive and safe from bad actors?
Did you enable a Secure Remote Access ? 
For teams who need to work remotely, some use virtual private networks (VPN) to help stay securely connected to their corporate network and applications. Other teammates may use corporate applications that are deployed to public clouds or that are SaaS-based. The question is, how can an organization ensure that their house-bound and remote workers are being productive, able to access applications that today are located anywhere, from any location, over different devices, while keeping their corporate apps and information secure?
What is secure remote access?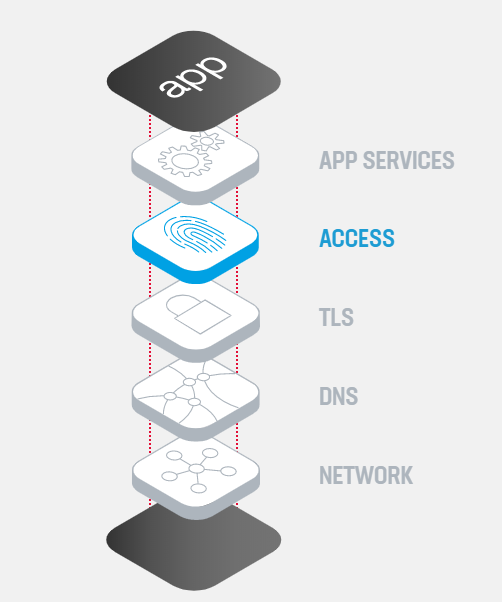 Secure remote access is an umbrella under which a number of security strategies reside. It can refer to any security policy or solution that prevents unauthorized access to your network or sensitive data.
With the proliferation of internet-connected devices, an organization's workforce is no longer sequestered to a single location. Instead, an organization may have employees connecting to their internal network and accessing sensitive data from locations across the globe. Because of this, old access security measures are no longer enough and must be replaced with safeguards that allow employees and other verified users safe and secure access from anywhere, on any device, at any time.
Secure remote access is a crucial part of any healthy application stack, working with other elements such as DNS and TLS to ensure your applications are continuously secure and performant.
How does secure remote access work?
There are several types security solutions and technologies that fall into the category of secure remote access, including (but certainly not limited to):
Endpoint security – Verifies desktop antivirus and firewall software is in place, systems are patched, keyloggers or other dangerous processes are not running, and sensitive data is not left behind in caches
Virtual private network (VPN) – Established a connection over an existing network, typically the public Internet, that is secured through authentication and encryption methods
IPsec VPN – Establishes a VPN over the public Internet using the standard IPsec mechanism
SSL VPN – Uses Secure Sockets Layer protocol, an authentication and encryption technology built into every web browser, to create a secure and encrypted connection over a less secure network, like the Internet
Single sign-on (SSO) – Allows an authenticated user to access select applications with an initial set of login credentials.
Network access control (NAC) – Controls access to a network via a combination of endpoint security measures, user authentication, and network security policy enforcement.
Friendly net detection (FND) – Allows a device to automatically recognize "friendly networks"
Privileged access management (PAM) – Set of tools that secure, monitor, and manage access to an enterprise's data from privileged accounts
Desktop sharing – Provides a user with real-time access to files and data located on another device
Why is secure remote access important?
With the proliferation of internet-connected devices, an organization's workforce is no longer sequestered to a single location. Instead, an organization may have employees connecting to their internal network and accessing sensitive data from locations across the globe. Because of this, old access security measures are no longer enough and must be replaced with safeguards that allow employees and other verified users safe and secure access from anywhere, at any time, from any device.
How does Pylones handle secure remote access?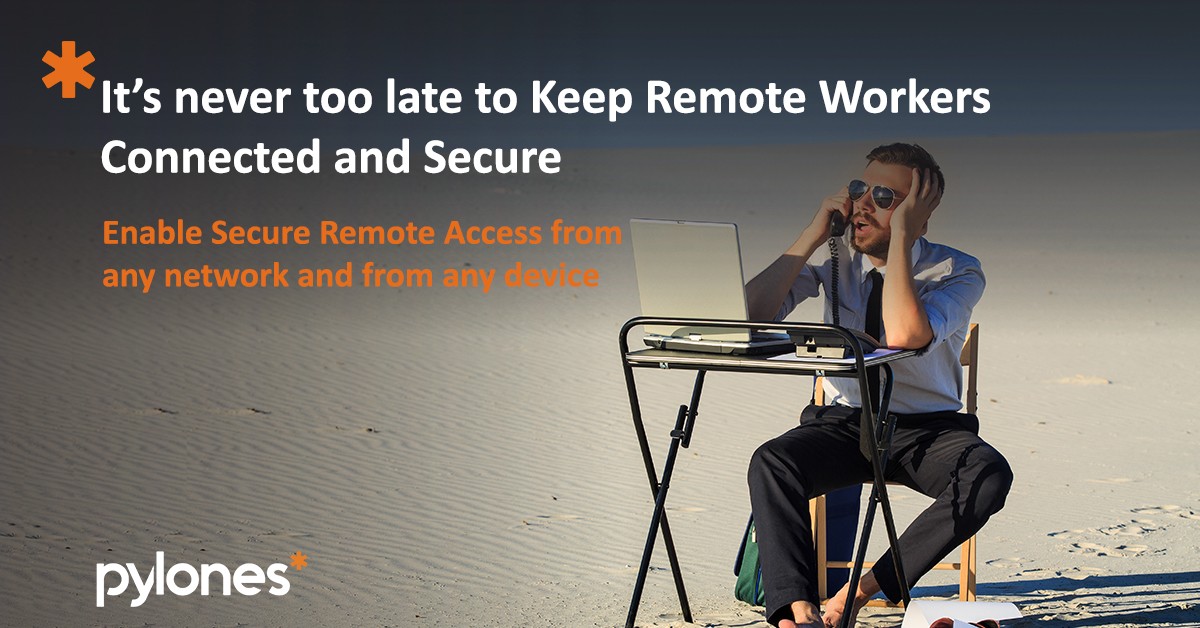 Pylones in partnership with F5 Networks provides the BIG-IP Access Policy Manager (APM) solution.
APM solution delivers all of the tools that organizations need to ensure their users remain up and running, and above all, productive. APM also protects user access from all locations, over all devices. The industry's most scalable access management solution, APM consolidates remote access, web access management, and Identity Aware Proxy (which helps drive Zero Trust Application Access), enabling organizations to enable the form of secure application access that their organization and users require.
For organizations requiring remote access to their network and all of its resources for their users working from home or remotely during this outbreak, APM, through its SSL VPN capabilities, 

enables secure remote access to corporate resources from any network, and from any device

. APM ensures secure, fast network and application access for remote users, while protecting corporate network resources, applications, and sensitive data from malware, theft or hack, and rogue or unauthorized access, leveraging context-aware policies.
 APM's web access management (WAM) capabilities ensures users secure access to web-based applications from anywhere, every time. APM proxies your organization's web applications, enabling centralized authentication and authorization, supporting single sign-on (SSO) and federation. APM also ensures that a user's device adheres to your organization's approved security posture before allowing access to your network for SSL VPN access, or your web-based apps. And APM's web access management capabilities are simple to setup, providing a seamless, simple user experience.
For organizations who are adopting a Zero Trust architecture, APM delivers Identity Aware Proxy capabilities. Today, your applications can reside anywhere, including in the public cloud as native cloud apps or Software-as-a-Service (SaaS), in a private cloud, or on-premises or in a data center. That alone complicates application access for you and your users. And it also increases your attack surface, leaving your apps at risk of human error, credential theft and attack, and account takeover (ATO). APM's Identity Aware Proxy delivers seamless, secure application access that leverages a trusted identity source, include Identity-as-a-Service (IDaaS); enforces modern authentication – such as identity federation, SSO, and even multi-factor authentication – for all applications, even those that do not natively support modern authentication; and is driven by context- and identity-aware policies, to ensure that only the right users are able to access the right apps at the right time.
In addition, APM's webtop ensures that your users are able to access any approved application from a single web page upon authorization and authentication, regardless of where the application resides – in the public cloud, SaaS, in a private cloud, on-premises or in a data center. And, based on context-aware policies, if the user's location requires additional authentication, then that can be implemented as well. It's a simple, secure, and enhanced experience for your users that helps limit support calls and headaches.
APM solution can help you and your team remain productive and secure while working from home or remotely during the COVID-19 outbreak. With  APM you can ensure secure, consistent, context- and identity-based access to your network as well as any app, anywhere, anytime for the right user, in the right context.
Explore how you can enable Secure Remote Access and amplify your business continuity plan
DOWNLOAD PDF