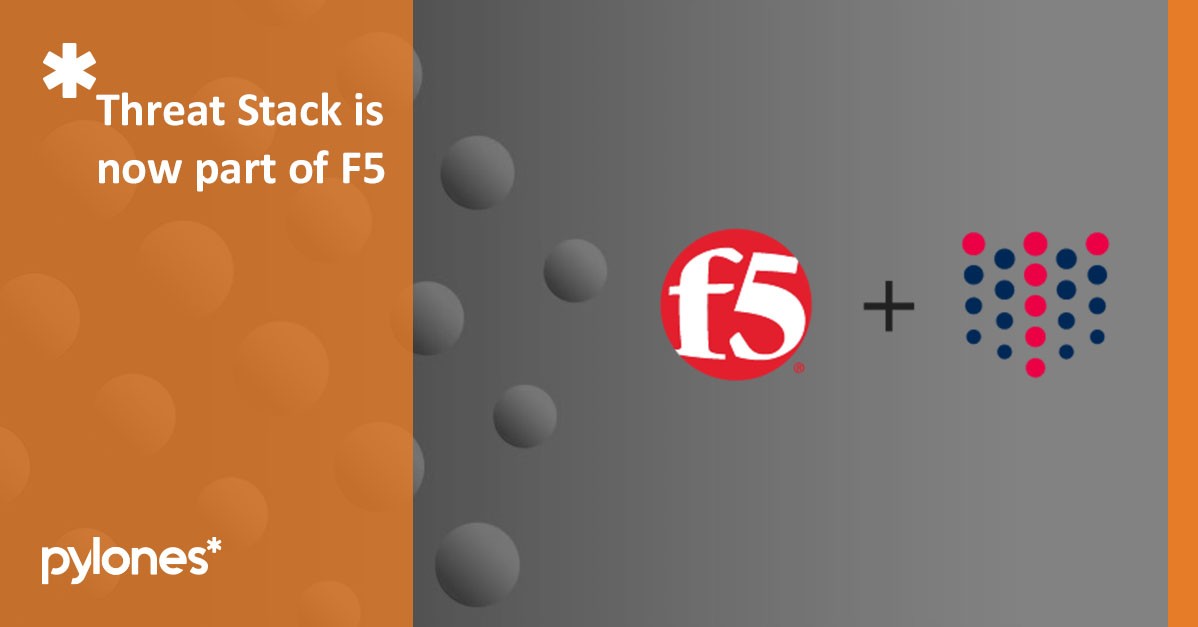 The acquisition of Threat Stack is likely to further boost F5 Networks' competitive position in enterprise application security and delivery.
F5 Networks, a leading company in the field of security and application delivery – whose Gold Unity Partner in Greece and Cyprus is Pylones Hellas the last 20years -announced the completion of the acquisition of Threat Stack, a leader in cloud security and workload protection, for $ 68 million.
Growing threat for cybercrimes 
Threats surrounding today's digital experiences are growing and applications are a focal point for cybercriminals. Cybersecurity Ventures expects global cybercrime costs to grow by 15 percent per year over the next five years, reaching USD$10.5 trillion annually by 2025, up from USD$3 trillion in 2015.
Cyber threats have expanded from targeting and harming computers, networks, and smartphones, to people, cars, railways, planes, power grids, and other important infrastructures. Many of these things are connected to corporate networks in some fashion, further complicating cybersecurity.
F5's steps to secure customers
F5's mission is to power adaptive applications that enable customers to secure and deliver extraordinary digital experiences. Threat Stack's proactive risk identification and real-time threat detection combined with the breadth of F5's application insights and controls will accelerate the delivery of this capability for their customers.
Rationale Behind the Acquisition
Founded in 2012, Threat Stack offers cloud security for applications, and provides real-time threat detection for cloud infrastructure and workloads. The company's Threat Stack Cloud Security Platform helps organizations monitor, detect, and respond to security and compliance risks. The platform is compatible across cloud, multi-cloud, hybrid cloud and containerized environments.
The acquisition of Threat Stack will boost F5 Networks' cloud security portfolio, thereby, enhancing its capabilities and expertise in providing better visibility and protection across its application infrastructure and workloads. Therefore, the acquisition is further anticipated to strengthen the company's competitive position in enterprise application security and delivery.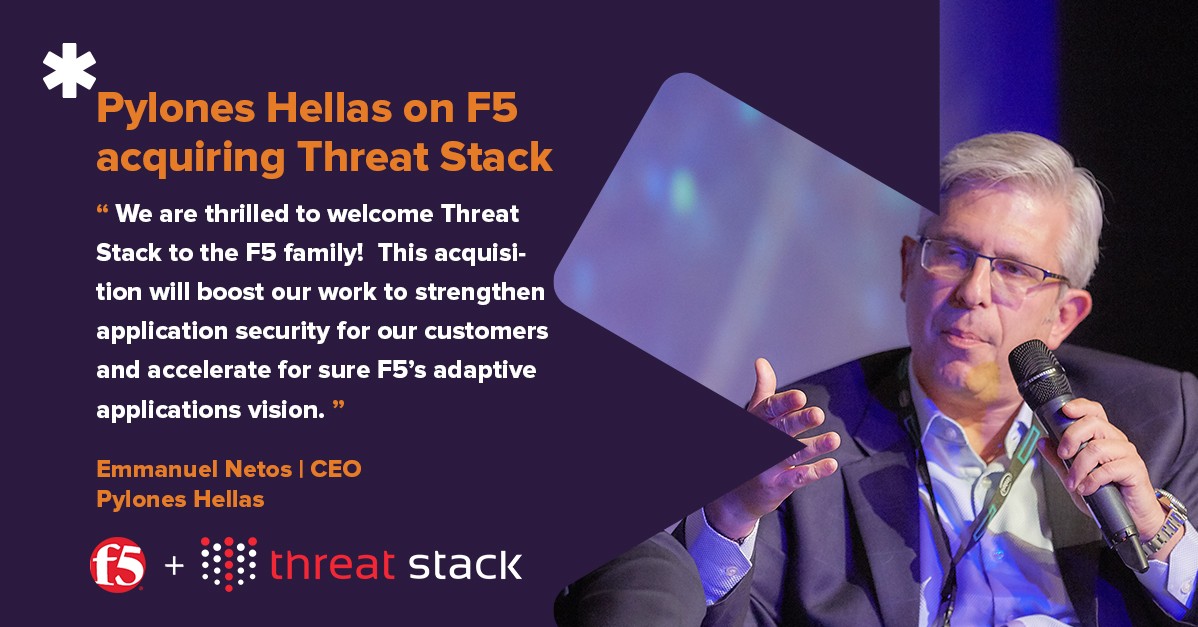 Mr. Emmanuel Netos, CEO of Pylones Hellas, stated about the acquisition: "We are thrilled to welcome Threat Stack to the F5 family! If we try to read behind the lines of this acquisition, now F5 further enhances its cloud security portfolio with a more secure application protection capabilities.  This acquisition will boost our work to strengthen application security for our customers and accelerate for sure F5's adaptive applications vision".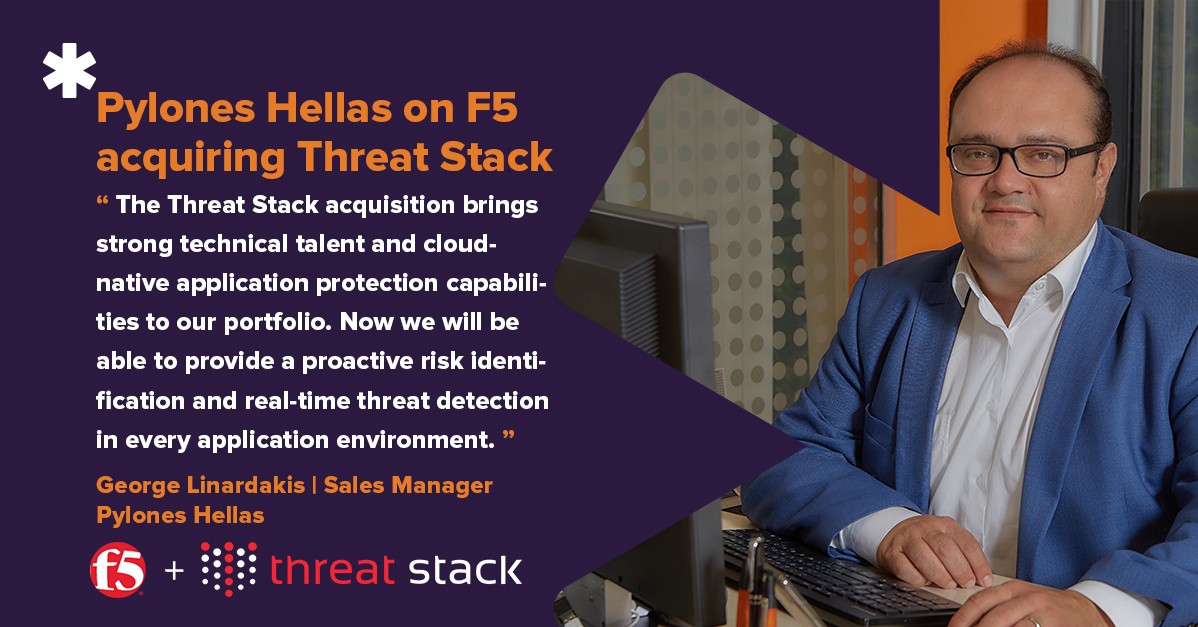 Mr. George Linardakis, Sales Manager of Pylones Hellas mentioned: "The Threat Stack acquisition brings strong technical talent and cloud- native application protection capabilities to our portfolio. Now we will be able to meet the significant need for comprehensive application and security solutions".
"Applications are the backbone of today's modern businesses and protecting them is critical for our customers. This acquisition will bring technology and talent to providing real-time threat detection capabilities for cloud infrastructure and workloads", noted Mr. Nikos Simos, Technical Manager of Pylones Hellas.
About Pylones Hellas
Pylones Hellas, member of the Cypriot group P.M.Tseriotis Ltd, is active for more than 24 years in the field of digital technologies and internet security. The company combines the services of both IT systems integrator and IT security integrator, consisting a pioneer IT provider for the Greek market. Based on three significant pillars Security, Optimization and High Availability, Pylones Hellas provides cutting-edge technology solutions, on any scale, in multiple demanding sectors such as Telecommunications, Hotels, Financial institutions and companies that base their business on the Internet, while continuing updating its customers' Information Technology Infrastructure, to provide, in turn, a high level of digital services to their customers.
Strategic partners of Pylones Hellas are F5, AWS, HPE, IBM and Microsoft offering numerous solutions in areas such as security, wired and wireless networks, storage, business critical systems, datacenters and cloud.
For more information please visit: www.pylones.gr | LinkedIn | Facebook Page| YouTube
About F5
F5 (NASDAQ: FFIV) is a multi-cloud application security and delivery company that enables our customers—which include the world's largest enterprises, financial institutions, service providers, and governments—to bring extraordinary digital experiences to life. For more information, go to f5.com.
About Threat Stack
Threat Stack is the leader in cloud security and compliance for infrastructure and applications, helping global enterprises securely leverage the business benefits of the cloud with proactive risk identification and real-time threat detection across cloud workloads. The Threat Stack Cloud Security Platform® delivers full stack security observability across the cloud management console, host, container, orchestration, managed containers, and serverless layers. Threat Stack provides the flexibility to consume telemetry within existing security workflows — or manages it with you through the Threat Stack Cloud SecOps Program℠ so you can respond to security incidents and improve your organization's cloud security posture over time. For more information, go to threatstack.com.
For more details, please contact:
Mr Alexandros Vafeiadis: Marketing & Communication Office Τel. 210-7483700 | Fax 210-7480196 | E-mail: avafeiadis@pylones.gr.