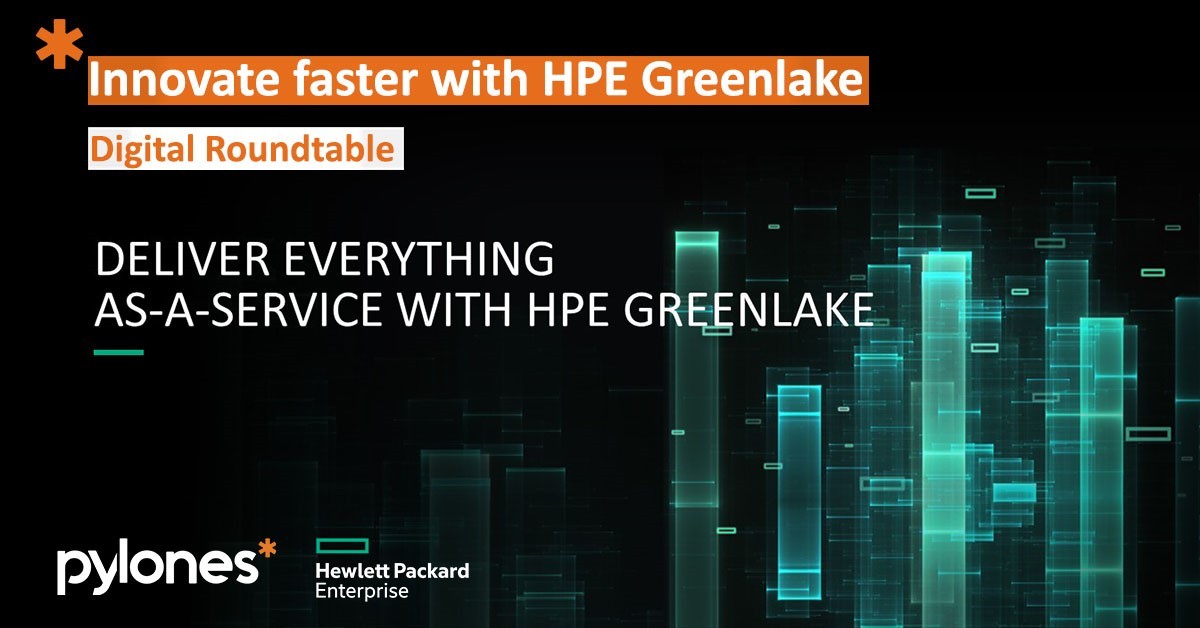 Athens, Greece – 21 July 2020 – The virtual round table entitled: "HPE Greenlake: The new cloud experience" was successfully completed, an initiative organized by Pylones Hellas in collaboration with Hewlett Packard Enterprise.
In the virtual event, Greenlake Digital Round Table, presented the new business model which is expected to change the way companies thinking the IT infrastructure. The event was attended by IT managers, IT administrators, CFOs and executives from companies and organizations that aim to adopt innovative features of the HPE Greenlake cloud. In this context showcased features that cover services such as container management, machine learning functions, VMs, storage, data protection and networking(edge). These services help companies transform and modernize their applications and data. The new era for cloud services has arrived, setting new levels of speed and flexibility thanks to the efficiency of IT-as-a-service.
Τα πεπειραμένα στελέχη της Pylones Hellas, καθώς και της HPE, μέσω της κας. Κατερίνας  Νάσσου, Pointnext Business Manager, παρουσίασαν τον τρόπο με τον οποίο μία επιχείρηση είναι σε θέση να καινοτομήσει και να επιταχύνει τον μετασχηματισμό της, εμπιστευόμενη τις υπηρεσίες του Cloud HPE Greenlake.  Οι υπηρεσίες HPE GreenLake cloud, παρέχουν επίσης στις επιχειρήσεις ένα εξαιρετικά συμφέρον οικονομικό μοντέλο, εξοικονομώντας από τις χρεώσεις που συνεπάγεται η επιστροφή των δεδομένων από δημόσια cloud στον on premise κόσμο. Το ευέλικτο μοντέλο HPE GreenLake as-a-service και τα εργαλεία ανάλυσης κόστους επιτρέπουν σε όσους αξιοποιούν αυτή τη λύση να ελέγχουν τις δαπάνες τους, με αποτέλεσμα να βελτιώνουν το Cash Flow τους και να απελευθερώνουν κεφάλαια για επενδύσεις που δίνουν μεγαλύτερες αποδόσεις και ανταγωνιστικό πλεονέκτημα.
Ms. Katerina Nassou, Pointnext Business Manager, from HPE alongside with experienced executives of Pylones Hellas presented the way in which a company is able to innovate and accelerate its transformation, trusting the services of Cloud HPE Greenlake. HPE GreenLake cloud services also provide businesses with an extremely advantageous financial model, saving on the costs of returning data from public cloud to on-premise. The flexible HPE GreenLake as-a-service model and cost analysis tools allow those who use this solution to control their spending, thereby improving their Cash Flow and freeing up funds for investments that provide higher returns and a competitive advantage.
DOWNLOAD PDF