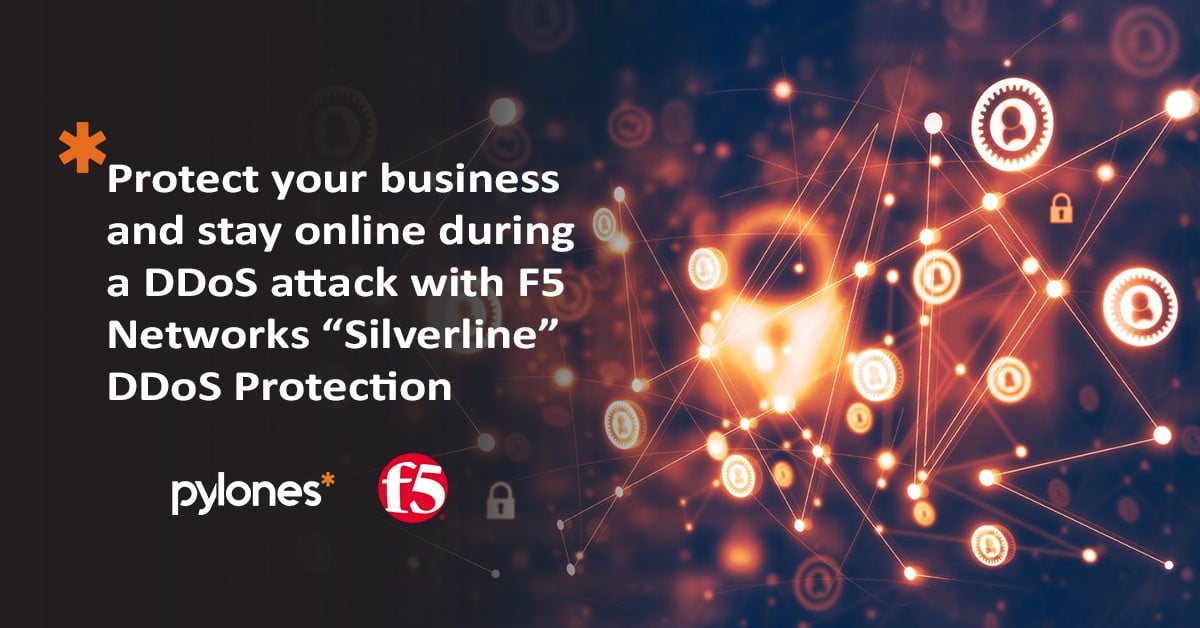 The problem
Many companies in the media environment have decided to use cloud solutions for publishing content. This requires a pay-per-use solution that ensures 24/7 service availability, flexibility of storage, computing capacity and link size, according to business needs. It is also quite common to use more than one cloud-service provider so that there is more flexibility if circumstances change.
While this scenario greatly facilitates the business environment and improves simplicity, it generates new requirements which bring about a need for advanced solutions. One example of this is application security, how can we secure application data or prevent DDoS attacks?
How can we apply common security policies to all public content and applications?
DDoS attacks are increasing in scale and complexity, threatening to overwhelm the internal resources of businesses globally. These attacks combine high-volume traffic with stealthy, low-and-slow, application-targeted techniques. To stop DDoS attacks from reaching the enterprise network, organizations need a hybrid solution for cloud-based mitigation in addition to on-premises protection.
Alternatives
Contracting security solutions and services or cloud service providers.
Make use of CDN-type solutions which allow us to secure web traffic at an earlier point.
Both solutions are much more expensive and more complex to manage.
The solutions offer little flexibility or versatility.
The solution "Silverline DDoS Protection"
Powered by F5 Networks
F5® Silverline® DDoS Protection is a service delivered via the F5 Silverline cloud-based platform. It detects and mitigates DDoS attacks in real time, with industry-leading DDoS attack mitigation bandwidth to stop even the largest of volumetric DDoS attacks from ever reaching your network. F5 security experts are available 24x7x365 to keep your business online during a DDoS attack with comprehensive, multi-layered L3–L7 DDoS attack protection.
Key benefits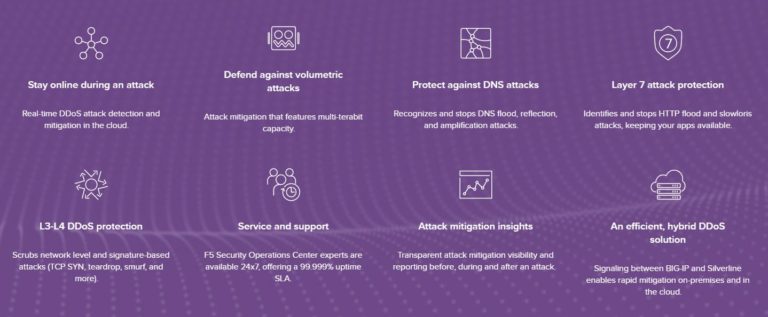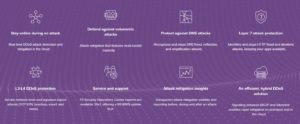 • Keep your business online during a DDoS attack
Stop DDoS attacks before they reach your enterprise network and affect your business, using real-time, DDoS attack detection and mitigation in the cloud.
• Protect against all DDoS attack vectors
Engineered to respond to the increasing threats, escalating scale, and complexity of DDoS attacks, F5 offers multi-layered L3–L7 DDoS attack protection against all attack vectors.
• Gain attack mitigation insights
The F5 customer portal provides transparent attack mitigation visibility and reporting before, during, and after an attack.
• Defend against volumetric attacks
Protect your business from even the largest of DDoS attacks—with industry-leading DDoS attack mitigation that features multi-terabit capacity.
• Get expert service
F5 Security Operations Center (SOC) experts are available 24x7x365 with optimum service SLAs for uptime and response to DDoS attacks in minutes.
• Drive efficiencies with a hybrid DDoS solution
F5 offers comprehensive DDoS protection both on-premises and with the Silverline cloud-based application services platform.

HYBRID DEPLOYMENT WITH AUTOMATED SIGNALING
The Silverline DDoS Protection service complements F5's on-premises DDoS solution to protect organizations against the full spectrum of modern DDoS attacks. This hybrid DDoS protection solution from F5 combines industry-leading DDoS protection solutions on premises for detecting and mitigating mid-volume, SSL, or application-targeted attacks—with the high-capacity silverline DDoS Protection service to stop the volumetric attacks before they ever reach your network.
F5 is the first leading application services company to offer a hybrid solution for DDoS protection. By implementing Silverline DDoS Protection in addition to the on-premises solution, customers can keep their businesses online when under DDoS attack with a reduced risk of downtime, real-time DDoS mitigation response times, unparalleled visibility and reporting, and cost efficiencies. The on-premises DDoS protection solution and Silverline DDoS Protection can be implemented independently of each other, or together as a hybrid solution for the most comprehensive L3–L7 DDoS protection.
Throughout the F5 infrastructure and process, Silverline DDoS Protection maintains PCI DSS compliance by protecting and
REFERENCE ARCHITECTURE |  HYBRID DEPLOYMENT WITH AUTOMATED SIGNALING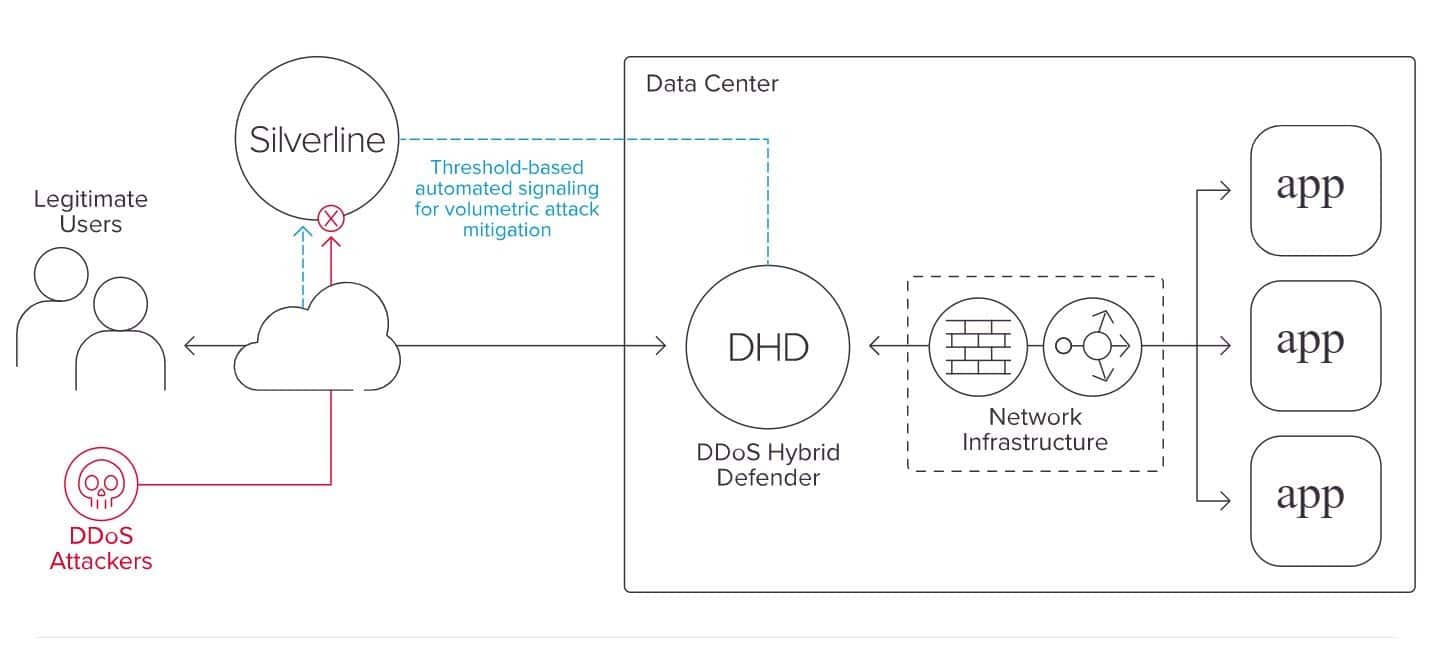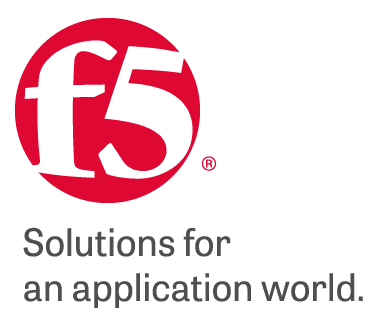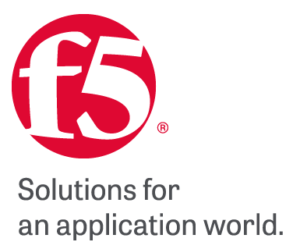 DOWNLOAD PDF