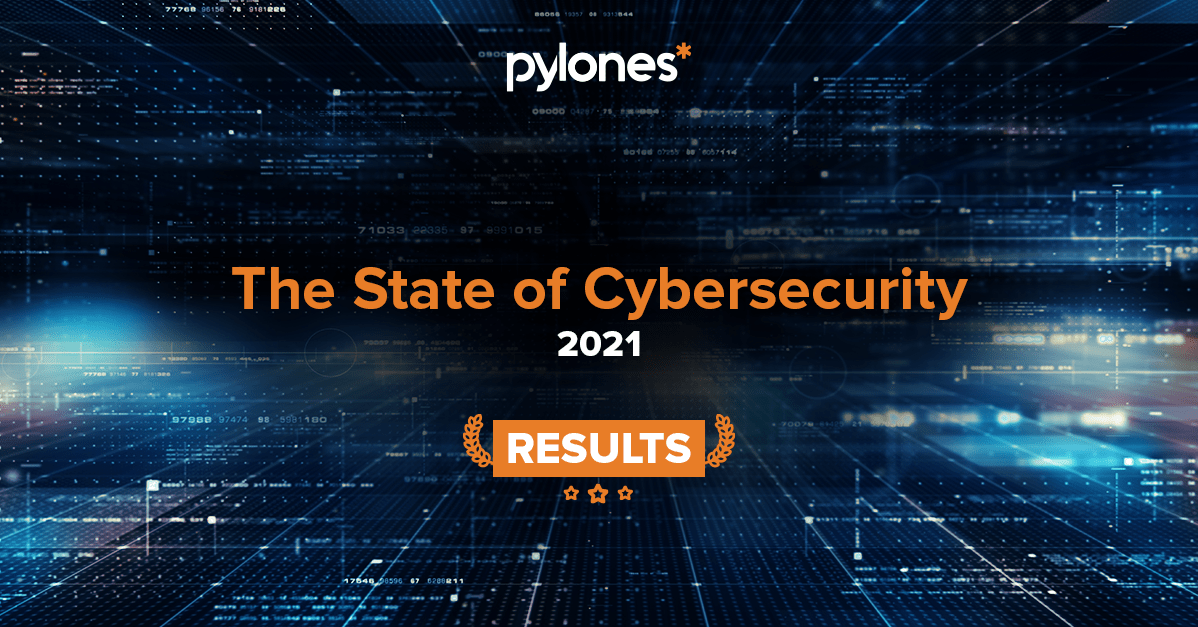 Athens, Greece – 20 October, 2021 – Pylones Hellas, a provider of advanced IT and cybersecurity solutions, with presence for more than 24 years in Greece, Cyprus and the wider region of South-eastern Europe as IT systems & security Integrator, announces the results of its second annual national security research, "The State of Cyber Security 2021" focused on cybersecurity and remote working.
As part of the effort to continuously and thoroughly understand the prevailing conditions in digital security, Pylones Hellas, created and conducted a national research, in collaboration with the Professor Christos Xenakis from the Digital Security Laboratory, Department of Digital Systems at the University of Piraeus and with the support of Hellenic (ISC)² Chapter, to assess whether and how the policies of companies have changed in terms of their data security, the way they operate and, most importantly, what are the strategies that are formed in the field of digital security in the post-covid19 era!
The research was conducted from March to September 2021 among executives from a wide range of sectors and more specifically focused on IT and digital security managers and executives.
The aim of the research, "The State of Cyber Security 2021" was to assess the changing sense of security related to remote working and the rising of the cyber-attacks. The challenges for corporate IT departments have grown rapidly, as they not only have to address the need for remote access for their employees, but also the rapid development of applications, as well as the adoption of good security practices. Despite the lack of a unified cyber security strategy, organizations need to implement best practices to secure their network.
"The new reality of remote working is here, and it will stay probably forever! Companies need to implement policies and practices in order to remain a viable alternative of working in the future. Research already shows that the hybrid work model is what employees want more. But what does this mean in terms of users and data security? The growing need for remote access to corporate data brings to the forefront the need for cybersecurity training for both IT executives and employees. Data gets out of the direct control of the administrators because now we talk about remote access to corporate networks and data! After all, are users safe and sound, and if so, do they feel secure behind a home screen? What are companies doing to protect their corporate data and their users who are now more exposed than ever to cyber-attacks? What are the biggest cyber threats?" mr. Emmanuel Netos, CEO of Pylones Hellas raises the key questions of the research. But what about the conclusions, based on the hundreds of responses from the IT professionals?
Profile of participants
More than 330 IT professionals and executives participated in the research. 62.50% of the participants are in a key position in the IT sector with 21% being a decision maker for their company holding a manager or C-level position and 19.87% stating that they are specialized in the IT security. It is also noteworthy that over 65.06% of the respondents are mainly working in large & medium enterprises, and the majority belong to the technology / IT sector (28.92%), followed by the Public sector (16.27%) and the Banking / Financial (10.24%).
Remote working & Greece
92.24% report that there is some form of remote working in their company always in align with the measures imposed by the government for the protection against covid-19. It is worth mentioning, however, that 37.9% report that their company applies remote working to more than 51% of their employees (1 in 2 works from home)!
To ensure remote work, Greek companies seem to use by 70.4% mainly Anti-virus / Anti-malware, Firewall and Backup and recovery as the most prevalent security control systems or services with only 27.1% stating that uses a Data Loss Prevention (DLP) system. Thus, there is a tendency of Greek companies not to realize the value of their data. As a matter of fact, Greek companies tend to base their security in reacting rather than in proacting in order to tackle a possible risk. In simple words, they have cyber tools so as to deal with a cyber-attack and not to avoid it from the beginning!
Security by chance?
33.73% of the respondents do not seem to feel particularly safe, as they believe that the company in which they work did not face any cyber threat during the pandemic period purely by chance! In fact, data security threats that concern IT professionals more in relation with remote working are malware, phishing and the theft of sensitive data. Consequently, the processes and applications that believed that need to be best protected in remote working are file sharing, web applications, and secure video conferencing tools.
When asked what they consider to be the biggest security challenge for their company in relation to the increase in threats in the last 12 months, the vast majority answer information and security awareness training – 74.33% of respondents, while the identification and prediction of security incidents are also in high positions, as well as the immediate response to ongoing attacks.
The next day…Security by chance?
As a consequence of the pandemic, cloud infrastructure workflows have increased by 57%. The majority of the survey participants predict that their company security budget (ITcyber-budget) will be increased next year. According to them, the solutions and services in which they should invest more to enjoy greater digital security are mainly IT security awareness training, Cloud Security, Firewall & Network protection and Identity & Access management (IDaaS).
Finally, according to the respondents, the most popular technological trends, which are expected to play an important role in the next 2-3 years are Software as a Service (SaaS), followed by Artificial Intelligence for IT operations (AIOps) and the Secure Access Service Edge (SASE).
The research findings lead to the conclusion that remote working due to the pandemic outbreak has created greater demand for cloud environments and at the same time greater insecurity for cybersecurity issues among professionals in all industries. It seems that they first move workloads and apps to the cloud and now they are looking for cloud security solutions in order to be protect them. But do they take into account the shared responsibility model that exists from the respective cloud provider? The companies seem to place special emphasis on network security more at this stage with end point security as a top priority due to the teleworking. With many companies continuing the remote working model in the post-covid era, it is now considered imperative not only the infrastructure update, but also the appropriate cybersecurity awareness training of the technical staff, users and management team of each company!
About Pylones Hellas
Pylones Hellas, member of the Cypriot group P.M.Tseriotis Ltd, is active for more than 24 years in the field of digital technologies and internet security. The company combines the services of both IT systems integrator and IT security integrator, consisting a pioneer IT provider for the Greek market. Based on three significant pillars Security, Optimization and High Availability, Pylones Hellas provides cutting-edge technology solutions, on any scale, in multiple demanding sectors such as Telecommunications, Hotels, Financial institutions and companies that base their business on the Internet, while continuing updating its customers' Information Technology Infrastructure, to provide, in turn, a high level of digital services to their customers.
Strategic partners of Pylones Hellas are F5, AWS, HPE, IBM, Palo Alto and Microsoft offering numerous solutions in areas such as security, wired and wireless networks, storage, business critical systems, datacenters and cloud.
For more information please visit: www.pylones.gr | LinkedIn | Facebook Page| YouTube
For more details, please contact:
Mr Alexandros Vafeiadis: Marketing & Communication Office Τel. 210-7483700 | Fax 210- 7480196 | E-mail: avafeiadis@pylones.gr.
DOWNLOAD PDF